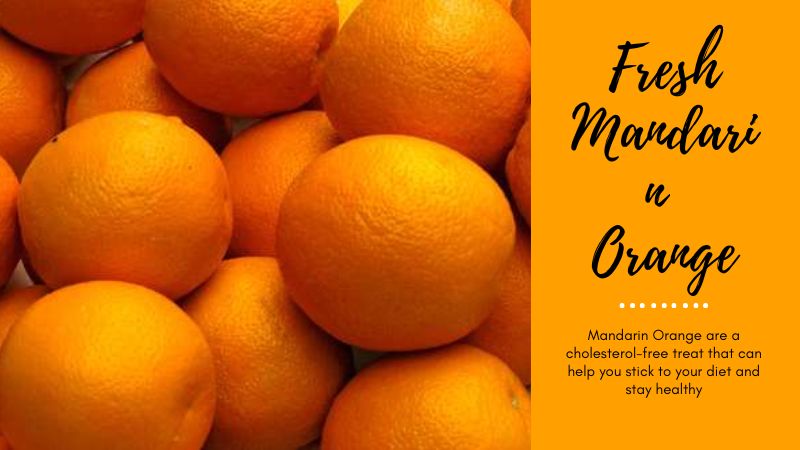 Fresh mandarin oranges are a delicious and nutritious citrus fruit that is enjoyed around the world. They are known for their sweet and juicy taste, as well as their high vitamin C content and other health benefits. Mandarin oranges are a type of citrus fruit that is smaller and sweeter than other types of oranges. They are easy to peel and separate into segments, which makes them a popular snack and ingredient in salads and other dishes. Mandarin oranges are also commonly used to make juices, jams, and other food products.
Mandarin oranges are also known for their sweet and refreshing taste. They are a popular snack for both adults and children and are often included in fruit baskets and gift packages during the holiday season. Fresh Mandarin Oranges Suppliers will help you get these fruit baskets in the best condition.
Health Benefits Of Fresh Mandarin Oranges
Fresh mandarin oranges are a great source of nutrients and offer several health benefits. Some of the key nutrients found in mandarin oranges include:
• Vitamin C: A medium-sized mandarin orange contains about 30% of the recommended daily intake of vitamin C. Vitamin C is an antioxidant that helps to protect cells from damage, supports immune function, and aids in the absorption of iron.
• Vitamin A: Mandarin oranges are also rich in vitamin A, which is important for maintaining healthy skin, vision, and immune function.
• Fibre: A single mandarin orange contains around 2 grams of fibre, which can help to support healthy digestion and may also aid in weight management.
• Potassium: Mandarin oranges are a good source of potassium, an essential mineral that helps to regulate blood pressure and supports healthy nerve and muscle function.
• Folate: This B vitamin is important for healthy cell growth and development, and is especially important for pregnant women to support fetal development.
In addition to these nutrients, mandarin oranges are also low in calories and fat, making them a great snack option for people who are watching their weight. They are also low on the glycemic index, meaning they have a minimal impact on blood sugar levels, which can be helpful for people with diabetes.
The high vitamin C content of mandarin oranges can also help to boost immune function and protect against illness. In addition, the flavonoids and other phytonutrients found in mandarin oranges may have anti-inflammatory and anti-cancer properties. Check for Fresh Mandarin Oranges Suppliers to have your regular supply of fruits.
Quick Guide To Buying Fresh Mandarin Oranges
When buying fresh mandarin oranges, there are a few things to keep in mind to ensure that you get the best quality fruit:
• Look for mandarins that are firm and heavy for their size. This indicates that they are ripe and juicy. Make sure to source them from the best Mandarin Orange Manufacturers. Check the skin for blemishes, mould, or soft spots. These can indicate that the fruit is overripe or may be spoiled.
• Choose mandarins that have a bright, vibrant colour. This is a sign that the fruit is fresh and flavorful.
• Consider the season. Mandarin oranges are typically in season from November to April, so you may have a harder time finding fresh fruit outside of these months.
• If possible, smell the fruit. Mandarin oranges should have a fragrant aroma, which is a sign that they are ripe and flavorful.
• Consider buying organic. Organic mandarin oranges are grown without the use of synthetic pesticides and fertilizers, which can be a healthier option for you and the environment.
Once you've purchased your mandarin oranges, store them in a cool, dry place away from direct sunlight. They can be kept at room temperature for a few days, or in the refrigerator for up to two weeks. To enjoy your mandarin oranges, simply peel and eat them as a snack, or use them in salads, smoothies, and other recipes for added flavour and nutrition. You can always get the best from reputed Mandarin Orange Manufacturers and add the benefits of this fruit to your diet.