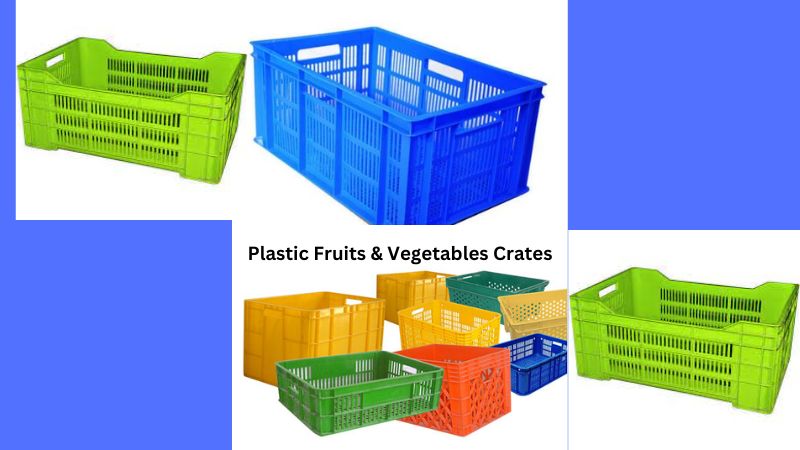 Plastic crates are containers made from plastic material, typically used for storage, transportation, and organization of goods. They come in various sizes, shapes, and colors, and can be stackable or nestable for efficient storage. The leading plastic crates manufacturers make them durable, lightweight, and often reusable. This is why it is a popular choice in many industries such as agriculture, retail, and logistics.
How are plastic crates made?
Plastic crates are typically made through a process called injection molding. In this process, melted plastic is injected into a mold, which shapes the plastic into the desired form as it cools and solidifies. The mold is then opened and the finished plastic crate is removed. This process is efficient and cost-effective, allowing for the production of large quantities of plastic crates in a short amount of time. The type of plastic used and the design of the mold can be varied to create different types of crates with different features and properties.
Different benefits of using plastic crates:
There are several benefits to using plastic crates, including:
Durability: Plastic crates are strong and durable, able to withstand heavy loads and rough handling.
Lightweight: Compared to other materials, plastic crates are lightweight, making them easy to handle and transport.
Hygienic: Plastic crates are easy to clean and do not absorb moisture, making them ideal for food and pharmaceuticals industry.
Reusable: Plastic crates can be used multiple times, reducing the need for frequent replacements and minimizing waste.
Cost-effective: Plastic crates are typically less expensive than other types of containers, making them a cost-effective option for storage and transportation.
Stackable/Nestable: Many plastic crates are designed to be stackable or nestable, allowing for efficient use of storage space.
Weather resistant: Plastic crates are resistant to weather and moisture, making them suitable for outdoor use.
Versatile: Plastic crates come in a variety of sizes and shapes, making them suitable for a wide range of applications and industries.
How to buy high quality plastic crates from plastic crates manufacturers?
Here are some steps to help you buy plastic crates:
Determine your needs: Consider the type of goods you will be storing or transporting and the size and weight of those goods. This will help you determine the size, strength, and type of plastic crate you need.
Research suppliers: Look for reputable suppliers that specialize in plastic crates and have a wide variety of options to choose from. Check for product reviews, customer feedback, and certifications.
Compare prices: Get quotes from multiple suppliers to compare prices and ensure you are getting the best deal.
Evaluate quality: Check the quality of the plastic crates by examining the material, the manufacturing process, and the design. Look for crates that are strong, durable, and made from high-quality plastic.
Place an order: Once you have found a trusted supplier that meets your needs, place an order for the required quantity of plastic crates.
Check delivery: Make sure the plastic crate manufacturers and suppliers can deliver the crates to your location and confirm the delivery time.
Inspect the crates: Upon delivery, inspect the crates to ensure they meet your specifications and are free from defects.
By following these steps, you can ensure that you are buying plastic crates that meet your needs and are of high quality.